Top 10 Reasons the Number on the Scale is a Hot Mess
You know the deal: Follow a reduced calorie diet and the number on the scale will only go in one direction. DOWN! But is that really the truth or have we just been played?
First, let me throw this scenario at you and see if it sounds familiar?
⭐️ Girl follows diet to a T and she's exercising. I mean she is KILLING IT and feels so good about herself.
👉 Girl steps on scale to weigh-in stoked to see all the progress she made.
👉 Girl's face becomes Shocked Emoji 😳 because she hasn't lost any weight OR yikes! she even gained 1 L.B.
👉 Girl begins crying and feels guilt, shame, and has 1 million WTFs running through her brain.
👉 Girl gives the f' up because this shit isn't working.
Let me see you throw your hands in the air like your turnt up at a Pitbull concert if this has happened to you.
But what no one told girl is: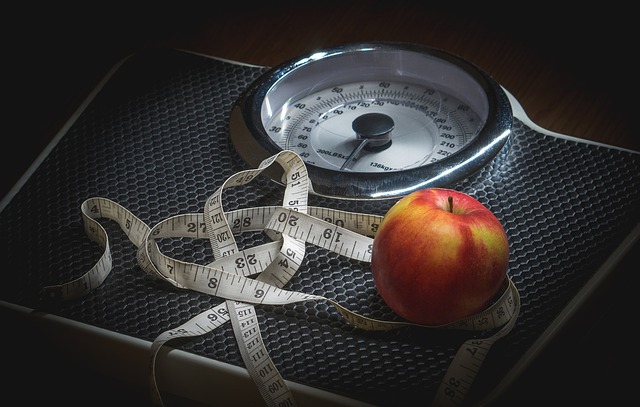 Top 10 Reasons the Number on the Scale is a Hot Mess
And why you should think twice about putting so much trust in the number.
TIME OF DAY. So, this one we've probably all heard before. Weigh yourself at the same time every day, preferably first thing in the morning after you've hit up the bathroom. And while this definitely helps level the playing field, it doesn't take into account all the other potential players on the field (you'll read about those star players below). So definitely don't take this as a Golden Rule.

SLEEP. Yeah, yeah, we've heard this one before, Mandi. Sleep is important for our health. But did you know that sleep can directly impact the number that pops up on the scale? Yup, lack of sleep increases stress levels in the body causing the release of cortisol, a hormone that regulates the type of energy (carbs, fats, proteins) used in the body. I'll go into a little more detail on how this works later. Additionally, increased stress levels in the body promote water retention. Sooo, if you are running on empty (hello mom syndrome) and trying to lose weight, especially post-baby weight when sleep is at an all time low, know that this may be why the scale isn't budging.

TIME OF YOUR LAST MEAL. First, let me say that I don't give a shit what time of day you eat. If you are hungry, honor that hunger in the moment. The "don't eat after 7 pm" rule has no scientific basis and you know how I feel about rules. However, when it comes to the scale, if you eat your last meal one day at 6 pm and the next day at 11 pm, there will be differences in the number on the scale due to how quickly your body digests the meal.

SHOTS, SHOTS, SHOTS, SHOTS… Alcohol always finds its way to the party. It can effect the scale in a few ways. First, it dehydrates the body…so unless you go the 1 beer:1 glass water ratio, you are going to end up dehydrated making you a little lighter. Second, we all know that after a few glasses of wine deep the munchies set it. Pizza never looked so good! And listen, it's not the pizza itself that's the problem so please don't think I'm putting a label on it. It's the late night eating when you probably aren't reeaaallly hungry that could effect the scale the next day. No biggie, it happens!
5. HELLO FRIEND. We all know the lovely bloat and cravings that creep up during that time of the month. Day 15-28, the Luteal Phase, is the worst for water retention and cravings. Take a moment to let that sink in (shit, that's half a month). Obvi, the scale will not be on your side during this time. Imma do a whole post on the effects of the menstrual cycle and how it relates to cravings and fat loss. But remember, our bodies can do that magical little thing called reproducing humans. Pay homage to the things that make us badass b's.
6. SODIUM. So its main function in the body is to keep the body's fluid levels in check. Therefore, if you have a day where you consume way more sodium than you typically do or sweat like a mofo and don't replenish your sodium another day, the scale will tip in either direction.
7. WATER RETENTION. I already touched on this one a bit, but it does deserve to stand alone. So many things contribute to water retention and could potentially mask any progress or fat loss that is being made. Sodium Intake, Time of the Month, Sleep, Stress…. and the list goes on.
8. STRESS. So lets talk about cortisol a little more. It's a hormone produced from the adrenal glands (they sit on top of the kidneys) and is released to help the body maintain homeostasis (stability). As it relates to nutrition, cortisol helps the body choose which energy source (carbs, fats, proteins) is needed to help meet the demands placed on it. Cortisol is best known for its role in the "fight or flight" response to stress. When faced with stress, the body needs immediate energy to fight the stressors. Cortisol releases glucose immediately from the body and stops insulin production so the body doesn't store energy. This is awesome, but the problem becomes when the body is constantly stressed due to lack of sleep, emotional stress, environmental stress, etc. Since cortisol is constantly released and consistently producing glucose, this leads to elevated blood sugar levels. It's effects on weight gain are also related to high circulating blood sugar levels. Since the cells are not absorbing the glucose, they become starved of energy and in turn send a signal to the brain that they need to be fed (i.e. increase in hunger and appetite).
9. FAT FREE MASS VS FAT MASS. You might have heard this before, "muscle weighs more than fat". So here's the deal. You have fat free mass which is muscle, bones, organs, water (kinda important shit) and then you have fat mass (yep, only fat). When you are trying to lose weight what you are really trying to do is lose fat. While following any reduced calorie diet, you will lose some muscle (buzz kill) but that can be mostly offset if you do some strength training or HIIT (high intensity interval training). Then there's the cleanses, fasts and low to no carb diets where all you are really doing is losing water weight (again fat free mass, not what we want). But we all know what happens when those are over, the weight comes back on (water weight). So body composition plays a huge role in what number pops up on the scale depending on what you are eating (or not) and if you are losing fat and preserving muscle.
10. CARBS. Carbs help keep the storage of muscle and liver glycogen full so that the body can pull from this storage when it needs a quick burst of energy in the absence of food. For every 1 g of carb there is approximately 3g of water with it. That's why when someone initially goes on a low carb or keto diet, they quickly lose weight. Pssst it's fat free mass.
So let me ask you, given all these reasons that the scale is a hot mess:
Will you still put so much weight (pun intended) on letting it determine your success as you work towards whatever health goals you have?
What if next time you went to the doctor and they tried to weigh you, you said "no thanks, that number doesn't define my level of health"?
Would you ever put so much trust in anything else that had this many flaws?